LiveCall Unveils iOS App to Provide Best User Experience to iPhone and iPad Users
Spinshell Inc. has announced that they have released the iOS app for "LiveCall", their video chat service for online customer engagement.
LiveCall is a cloud-based service that allows you to engage with your customers online using video, voice and text chat. By responding to the doubts and fears of the customer on the spot, it helps prevent disengagement and can lead to conversion. Video chatting in particular offers an opportunity to actually show the product while engaging with the customer. It is possible to convey the quality and details of the product, which would be difficult just by looking at images and descriptions of the product.
The WebRTC technology used by LiveCall provides easy access to video calls, no apps or plugins needed, all you need is a supported browser. It supports video calls via browsers on desktop computers or Android devices, and until now only iOS browser calls were unsupported. With the release of the iOS app, you are now able to provide face-to-face online customer service via video calls optimized for the iPhone and iPad.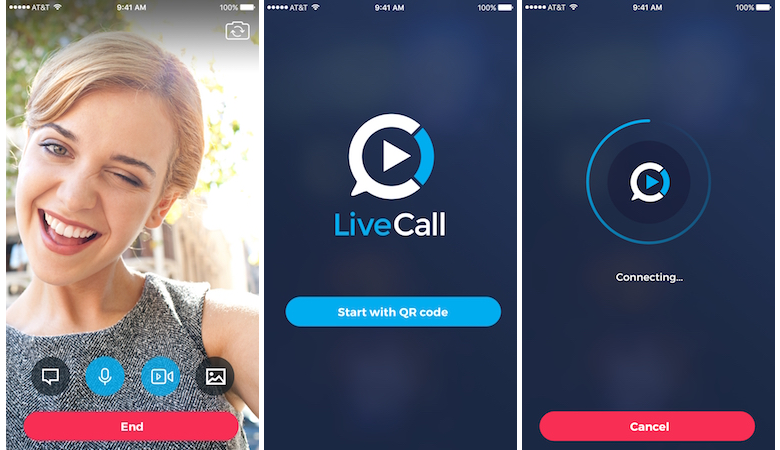 Main features of the LiveCall iOS app:
1. Video chat
We deliver the same video chat functionality via the iOS app as in the browser version. It is also easy to turn the video camera on or off.
2. Text based chat
With the intuitive interface you can text chat while in a video chat.
3. Switch between front/rear camera
You can switch to the rear camera when you want to show the actual product or scenery, for example during a video appraisal of used item.
4. Read QR codes
The customer can start a video chat by reading a QR code. You can invite customers to video chat by posting the QR code on websites and fliers.
5. Supports "Agent Console" for customer service staff
Customer service staff can receive calls from customers even while they are on the go using an iPhone, they don't have to wait in front of a desktop or laptop computer all the time.
6. Notification of incoming calls
After logging in the "Agent Console", the app can receive calls from customers in the background even if the phone is in sleep mode, and it will notify you with a ring (or vibration) and notification message.
7. Optimized for the iPad as well
Screen layout has been optimized to the display size not only of the iPhone, but of the iPad as well.
Download LiveCall iOS app here
LiveCall website here